One of the most stunning South East Asian countries is Vietnam known for its intriguing blend of history, amazing natural scenic beauty, delicious cuisine – vegetarian and non-vegetarian, hip 'n' happening nightlife, interesting museums, legacies of a bygone era and so much more. So after a comfortable four-and-a-half-hours journey (Mumbai to Ho Cho Minh) via VietJet, flown in style with Sky Boss that included priority check-in, priority security check, access to the Lounge, complimentary food, 30 kg checked in baggage and so many more amenities, we reach Tan Son Nhat International Airport, Ho Chi Minh City, Vietnam. Our destination is Da Nang and so off we fly via the domestic carrier of VietJet to Da Nang Airport. Our schedule is super packed with action and we have no time to lose, so as soon as we reach, we are herded into a luxurious bus helmed by our affable guide Mr Vinnie and zip off to the Hoi An Vin Wonder Theme Park, one of the best amusement parks I've ever been to.  Lunch at Vin Wonder Theme Park & Safari World Hoi An is adroitly curated by the chef and offers both veg and non-veg delicacies.  …And after that we gear up for a wonderful adventure across the vast park which have five divisions – Harbor Corner, exquisite Island of Folk Culture which showcase the making of silk, lanterns, paintings, bamboo hats and more, River Safari which houses giraffes, antelopes, white tigers, lions, sloth bears and so much more – the bird section have colourful parakeets which would swoop high and feed on peanuts from your hands, Adventure Land and Water World. All in all, the entire experience through this grand amusement park is superb.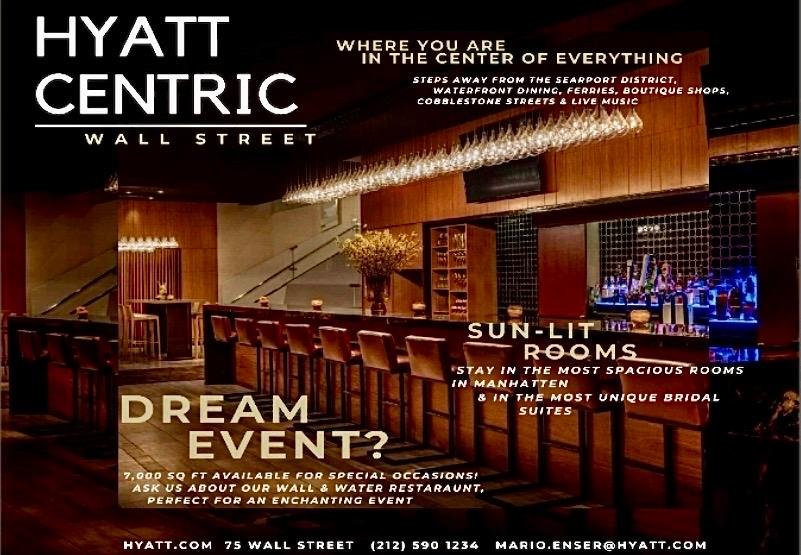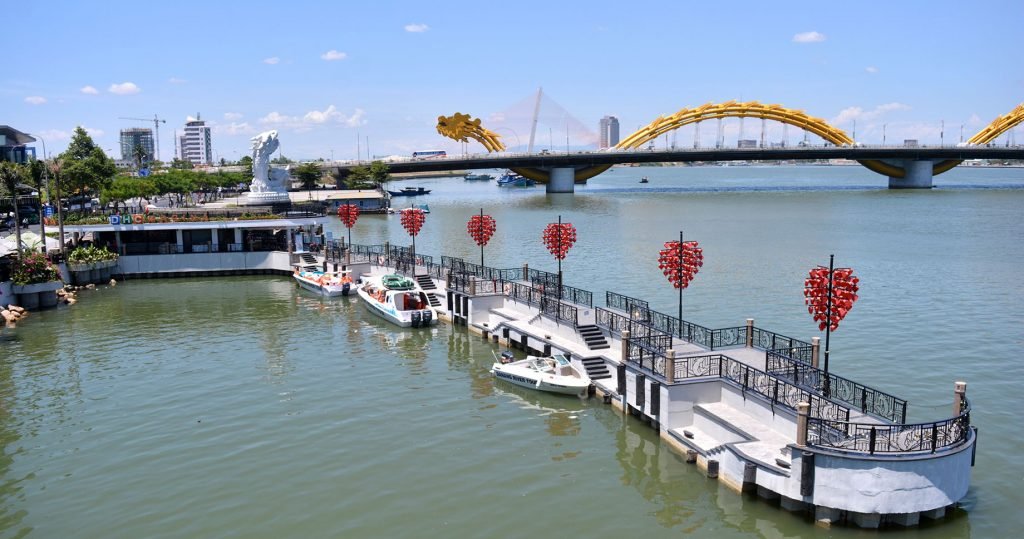 If the amusement park was an amazing experience, our next stop, the coconut basket boat ride is crazily memorable. Each basket boat has two passengers and is helmed by a boatman, who would paddle to the middle of the river and then twirl the basket boats round and round. Rocking sure gets a new meaning here! We grab our cameras to record the dizzy madness and the magical ambience of a setting sun, blue waters and the boatmen twirling their basket boats to blaring music. Indeed, it is truly magnificent!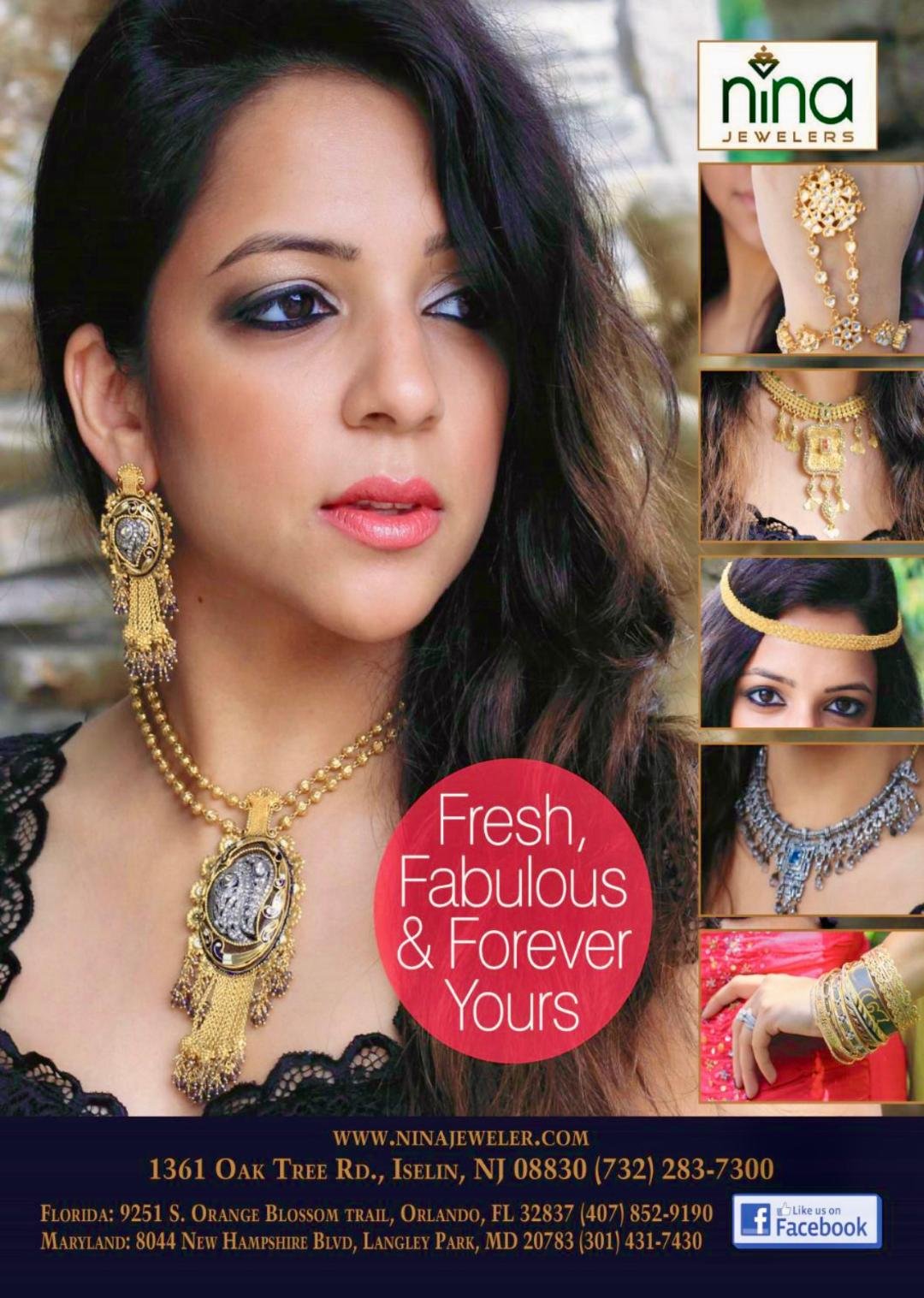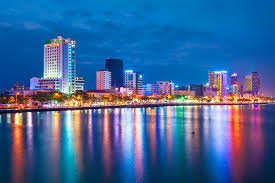 From there, we go to see Hoi An, an ancient city, another World heritage site – it is amazingly preserved and showcases the past legacy from 15th to 19 th century. This is followed by the spectacular Hoi An Memories Show. Dinner is at the plush Almanity Hoi An Resort and Spa hotel.
The next morning, My Son Holyland, a UNESO heritage site is the next place we gambol to – here, it is almost like going back in time to the 7th century as we walk up the narrow steep valley surrounded by craggy mountains and verdant greenery to the temple ruins of a bygone era. There are Shiv lings and 70 other well-preserved monuments of the Champa Dynasty. The heat and humidity make things a tad uncomfortable but the interesting legacies of the past linking India via the Champa dynasty have me enthralled.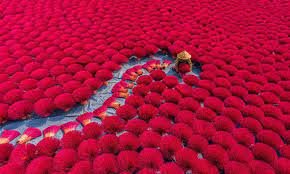 From there, we move to our hotel – Rosamia Hotel Da Nang which overlooks the exquisite My Khe beach. However, the allure of the beach has to wait as we attend a seminar held by the Tourism department where Subhash Prasad Gupta, Deputy Chief of the Mission, Embassy of India in Vietnam and Cao Tri Dung, Chairman of Da Nang Tourism Association, speak about the myriad plans to encourage more Indian travelers. This is followed by a yummy dinner with mouth-watering Indian delicacies. It is late evening but the lingering thought of the beach beckons and as the gentle waves lap up against my feet, I look around at the glittering neon lights of Da Nang city and realize I absolutely love the vibe of this magnificent place.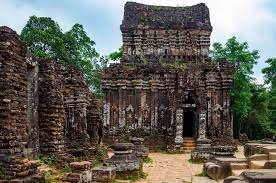 The next morning, I'm up at 5 a.m but the sun is already up and it is bright and cheerful outside. After a quick breakfast, we are off to the amazing Ba Na Hills, which is an hour and a half away. We reach the cable car station that looks like a huge pagoda… perhaps because it is a Sunday, the place is crowded and we have to queue up in a serpentine line to get to the cable car. But the ride in the cable car is absolutely breathtaking as it rises high above the craggy mountains to land at the Golden Bridge engulfed by an open palm – another amazing addition to the UNESCO heritage sites. That bridge too is swamped with tourist. Another bridge lead us to the colorful French Village where we soak in the magical ambience of  a medieval fantasy.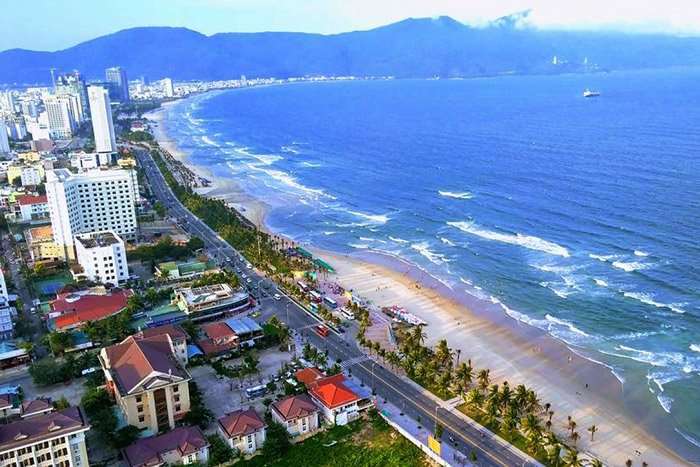 After lunch, we are back in the polished pink cable cars and return to the cable car station. From there, we head to the Cham Museum which houses many relics of the past including Shiv lings and other statues, the APEC park next to the museum with its scenic panoramic view of the Hans river, beautiful trees and flowers, and it's lovely architecture is our next destination. From there we can see the Dragon bridge which breathes fire at 9 p.m. every Saturday and Sunday. We get a better glimpse of it in the night when we party at the happening Icon sky Danang, Happy Yacht – Love Pier – Danang. Indeed, Da Nang's night life is as good as any top city. 
Very tired yet in high spirits, we head back to our hotel and call it a night. The next day, we are taken to Hui, another province of Vietnam. On the way, we stop at Khai Dinh tomb, recognized as a World Cultural Heritage site by UNESCO. The tomb belongs to Emperor Khai Dinh (1885-1925) – not very popular with the people because of his harsh tax system but the architecture of the tomb which is located on Chau Chu Mountain is very impressive and is said to be the last construction at the Nguyen Dynasty.  From there, Tu Duc tomb (completed in 1867) is our next whistle stop. This is one of the most exquisite royal mausoleums, designed by the Emperor Tu Duc himself before his death. The tomb is 5km south of Hue on Van Nien Hill in Duong Xuan Thuong village. Next pit stop is the colourful Incense Village where we rush around to buy as many incense packs as possible. 
Incense shopping done; we head to Tam Giang lagoon where we stop at a restaurant in the middle of the river to enjoy some yummy seafood cuisine. "Don't eat too much as the grand dinner is at Huong Giang hotel," said our guide. So back we go to the hotel where the Hui Tourism director and other dignitaries warmly welcome and sit with us for dinner, as local artistes regale us with Hui folk songs and dances. Indeed, it was quite an enjoyable evening! 
It is our last day in Vietnam and after a morning boat ride to see the spectacular sunrise, we are back in our rooms to pack. But the minute we step out, we find ourselves dressed in traditional Hui costumes by two very pretty but determined girls.  Dressed in trad wear, a little self-conscious, we head to the grand Imperial City in cyclos – a three wheeled rickshaw which is super fun. A teeny-weeny shopping break, lunch at a gorgeous restaurant where we try out some more traditional costumes and from there, we zip off to the domestic airport. VietJet again prove to be very efficient as we are transported in time to Tan Son Nhat International Airport to return home. …Indeed, the trip to Vietnam was a wonderful whirlwind experience – hectic yet fabulous. 
Vietnam is truly wonderful and should definitely be on the top of every traveler's bucket list. Travelling across this magnificent country is comfortably within the budget especially for Indians (1 Vietnamese Dong is equivalent to 0035 Indian Rupee). The food is wonderful with enough choices for both veg and non veg… do try out the street food especially chicken Bun Bo Hu –it's delightful. Vietnam is indeed a traveler's delight, so go ahead, put this fab country on your "must visit" destination to travel immediately.